For over 30 years, Davenport, Evans, Hurwitz & Smith has awarded eight annual scholarships through the Sioux Falls Area Community Foundation to seniors in surrounding counties. The scholarships acknowledge some of the area's most accomplished students, and are specifically designated to be used at institutions of higher learning in South Dakota.
Looking back at 30 years of Davenport Evans Scholars back in 2017, the firm sent a survey to gather some updates from our past Scholars. It was so fun hearing their updates, and seeing their photos, that we have stayed in touch! Check out their updates below! These former South Dakota students are doing amazing things in South Dakota and around the nation, serving others as a nurse, a nun, an educator, a physician, a pharmacist, a librarian, a lawyer, even the Press Secretary for the U.S. Judiciary Committee! Wow!
Along with student updates, we surveyed past scholars for data on whether the students who received encouragement to stay in-state completed their undergraduate degree in South Dakota, whether they currently work in South Dakota, and what factored into their decision to stay or not stay in South Dakota after college. Of the surveys returned, Davenport Evans scholars responded as follows (see graphs below):
The South Dakota connection is important to Davenport Evans. "The firm recognizes that our best and brightest high school seniors are the future of South Dakota and key to growing our economy," explained Davenport Evans lawyer Vince Roche. "That's a primary reason why we are committed to encouraging those students to attend one of our fine in-state institutions of higher learning, with the hope that some of them will ultimately put down roots in a local community."
Are you a recent Scholar or parent of a Scholar? We would love to share your update! Email Kristen Townsend at [email protected]. Here are the posts from recent graduating classes: 2023 Scholars; 2022 Scholars; 2021 Scholars; 2020 Scholars; 2019 Scholars.; 2018 Scholars; 2017 Scholars; 2016 Scholars; 2015 Scholars; 2014 Scholars; 2013 Scholars.
We invited our past Davenport Evans scholars to also share updates, and it was exciting to hear how they have gone on to use their education to impact the the state, the nation, and the world! Here are a few "Stories from Davenport Evans Scholars." Please check back for more, and if you know a scholar that would like to share an update, ask them to email Kristen Townsend at [email protected]. Davenport Evans lawyers are proud to support the future of South Dakota through the Davenport, Evans, Hurwitz & Smith, LLP scholarship.
Davenport Evans Scholars in South Dakota
'03, Dr. Michael Amolins, 6-12 Curriculum Director, Harrisburg School District, Harrisburg, SD
"Thank you! The scholarship I received from your office made a tremendous difference in my life. The education I received has allowed me to provide comfortably for my family while I pursue the career I am passionate about (Education). Milestones: B.A. Chemistry, Music, Math (Augustana); M.S. Medicinal Chemistry (Kansas); Doctor of Education (USD). Two beautiful boys and a lovely wife."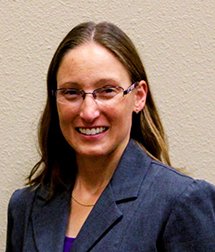 '98, Trisha (Casanova) Hadrick, Pharm.D., Pharmacy Manager, Faulkton Drug, Faulkton, SD
"In 2004 I graduated from South Dakota State University with a Doctor of Pharmacy degree. Since graduation, I have resided in Faulkton, SD where I a have been the manager of Faulkton Drug. I am married to David and have two daughters. In 2012, I received the Distinguished Young Pharmacist Award from the South Dakota Pharmacists Association. I am currently the President of the South Dakota Pharmacists Association. Locally, I am co-president of Faulkton's Business and Professional's Association and President of Faulkton's Baseball/Softball youth organization."
'14, Kara Koth, Student, University of Sioux Falls, Sioux Falls, SD
"I love South Dakota! I am continuing my education to become a Physician's Assistant. Thank you so much for your financial support and for giving me the resources to achieve my dreams! I appreciate your help and am so thankful that I could attend college in South Dakota where I have been blessed with incredible opportunities. THANK YOU!"
'02, Jennifer Lunder, Ayuda Coordinator, Evangelical Lutheran Church in America, Sioux Falls, SD
"I am the Ayuda coordinator of the Evangelical Lutheran Church in America's new initiative Ayuda, which means "Help" in Spanish. The goal of this initiative is to build stronger community in Sioux Falls and the broader community. Thank you to your law firm for supporting me in my educational endeavors in 2002!"
'95, Mitch A. Peterson, Attorney, Davenport, Evans, Hurwitz & Smith, LLP, Sioux Falls, SD
"In 1995, Davenport Evans granted a scholarship to me. Davenport Evans also held a luncheon banquet where many of its lawyers attended to meet all of the scholarship recipients. I met many attorneys at that banquet, but I was seated at a table with Bob Lange, now the Honorable Judge Lange of the United States District Court for the District of South Dakota. Bob (Judge Lange) and I seemed to connect. Several years later during my first year of law school at Vanderbilt University, I called him about summer internship opportunities. Bob took me under his wing that summer and remained my mentor until he became a federal judge. Since that summer of 2000 through today, I have never practiced law anywhere other than Davenport Evans, and it all started at that scholarship banquet twenty-two years ago."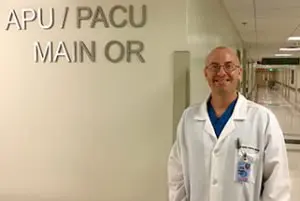 '01, Jacob Quail, LCDR, MC, USN  General Surgeon, Sanford Vermillion Medical Center, Vermillion, SD
A native of Sinai, South Dakota, LCDR Jacob Quail is a graduate of Sioux Valley High School and a 2005 graduate of Augustana College where he obtained his BA degree in Biology, graduating Summa cum Laude.  Prior to entering medical school, he attended Officer Indoctrination School in 2005 in Newport, Rhode Island. He graduated from the University of Minnesota Medical School in 2009 where he obtained his MD degree and was inducted into Alpha Omega Alpha and the Gold Humanism Honor Society. As a medical missionary, he traveled to Guatemala three times to provide medical care during medical school.
He completed both his surgery internship and residency at the Naval Medical Center San Diego (NMCSD), graduating in 2015. He completed a one-year Research Fellowship in Molecular and Experimental Therapeutics at the University of California-San Diego Moores Cancer Center in 2013.
After completing his surgery residency at NMCSD, he reported to US Naval Hospital Guam in August 2015 where he practiced as a Board-Certified General Surgeon. He served as the Chair of the Medical Executive Committee at US Naval Hospital Guam since June 2016 overseeing the medical practice of the medical staff. He also served as an Assistant Professor of Surgery at the Uniformed Services University of Health Sciences Department of Surgery.
In 2020, Dr. Quail and his family moved to Vermillion, SD where he is a general surgeon at Sanford Vermillion Medical Center. He is also the Vice President of the new Boys and Girls Club of Vermillion.
He is married to Mrs. Shelby Quail and has three children.
'07, Sarah (Westerman) Smith, RN, Prairie Lakes Hospital, Watertown, SD
"I started as a medical/surgical/pediatric nurse and am now an RN in the operating room at Prairie Lakes Hospital in Watertown, SD. I am also married to a farmer and have two beautiful girls – age 7 and 9."
'99, Benjamin Solomon, MD, Medical Oncologist/Hematologist at the Avera Cancer Institute, Sioux Falls, SD
"I was born and raised in Sioux Falls and graduated from O'Gorman High School in 1999. I attended South Dakota State University and graduated in 2003 with a Bachelor of Science in Biology with honors distinction. I then attended the University of Nebraska for medical school and graduated with my M.D. with honors in 2007. From there, we headed to Rochester, MN to the Mayo Clinic, where I spent 6 years in Internal Medicine Residency and subspecialty fellowship in Medical Oncology and Hematology.
I now work as a Medical Oncologist/Hematologist at the Avera Cancer Institute in Sioux Falls. I have been married to my wife, Tricia, since graduating from college in 2003, and we have four children. I enjoy exercise including cycling and running after the kids. For the past several years, I have participated in the St. Baldricks Foundation annual head shaving event in Sioux Falls to help to raise money that supports pediatric cancer research."
'16, Josh Sorbe, Press Secretary for the U.S. Senate Judiciary Committee, Chaired by Dick Durbin (D-IL)

Passionate about how we consume information and engage in political discourse, Josh is the Press Secretary for the U.S. Senate Judiciary Committee, chaired by Sen. Dick Durbin (D-IL). He leads press correspondence, social media engagement, and outreach for the committee with jurisdiction over judicial nominations, oversight of the Department of Justice and Department of Homeland Security, and legislative authority on a wide range of constitutional issues.
Prior to the Judiciary Committee, he was the digital manager for U.S. Sen. Maggie Hassan (D-NH) through her reelection and was the Development & Communications Officer at the Harry S. Truman Scholarship Foundation.
Raised in Brookings, South Dakota, Josh is a graduate of the University of South Dakota with degrees in economics and political science, where he served as Student Body President, was named a Harry S. Truman Scholar, and was team captain of the Division I swim team.
'04, Kimberly Kinder Smith, Librarian, South Dakota State Historical Society, Pierre, SD
"I received my Masters in Library and Information science with a concentration in archives at Simmons College, Boston, MA in 2010. Following graduation, I did a three month internship for the Salzburg Global Seminar in their library."
'02, Jennifer Lunder, Ayuda Coordinator, Evangelical Lutheran Church in America, Sioux Falls, SD
"I am the Ayuda coordinator of the Evangelical Lutheran Church in America's new initiative Ayuda, which means "Help" in Spanish. The goal of this initiative is to build stronger community in Sioux Falls and the broader community. Thank you to your law firm for supporting me in my educational endeavors in 2002!"
Davenport Evans Scholars Across the Nation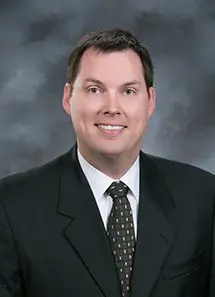 '98, Mark Fersdahl, Weather Radar Systems Engineer, Rockwell Collins, Cedar Rapids, IA
"I am grateful for the scholarship Davenport Evans awarded to me in 1998.  I completed a BS in Electrical Engineering and MS in Atmospheric Sciences from the South Dakota School of Mines and Technology.  Upon graduation, I joined Rockwell Collins in Cedar Rapids, Iowa as a weather radar systems engineer.  For 12 years, I have had the privilege of designing weather and turbulence detection algorithms for commercial aircraft we fly on every day.
My wife, Sarah, and I enjoy life with our children Natalie (5) and Henry (2).  I am proud of my South Dakota education, we always enjoy coming home to visit family near Baltic and Rapid City.  I am honored to be a Davenport Evans scholar.  Not only did the scholarship give me a head start in paying for my college education, it also motivated me to do well in my studies.  Davenport Evans should be commended for their support of South Dakota students for 30 years!"
'07, Rachel Hurley, MD/PhD Program, Mayo Clinic, Rochester, MN
"I wanted to say thank you for the scholarship — it was an incredible blessing while I was receiving my education at Augustana University. I am currently in my 6th year of training in the MD/PhD program at Mayo Clinic in Rochester, MN. My thesis work is focused on the investigation of novel therapies for ovarian cancer, and I plan to pursue residency and fellowship training in Oncology. I am also greatly looking forward to my wedding to Andrew Paulson, a collaborative pianist and Director of Worship at Grace Lutheran Church, next spring."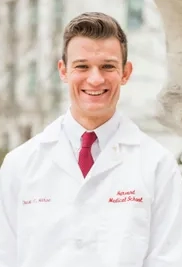 '13, Chase Marso, Harvard Medical School, Boston, MA
"Having recently graduated from Augustana University with a B.A. in biology, I have been admitted into the Class of 2021 at Harvard Medical School to begin July 2017. As a lifelong South Dakota resident from Brandon, SD, I am excited for this new opportunity as I head out to the east coast for the next 4+ years. At this time, I am unsure of the field of medicine in which I would like to practice, but surgery, orthopedics/sports medicine, cardiology, and neurology are all of interest to me. And while I am uncertain where this next stage of my life will take me, I am grateful for the financial support of Davenport, Evans, Hurwitz, & Smith, as the scholarship that I was awarded helped allow me to pursue an outstanding education opportunity at Augustana University in Sioux Falls over the past four years."
Argus Leader, May 7, 2021: Four years after tough decision, Chase Marso set to graduate from Harvard
Argus Leader, May 1, 2017: Augie QB Chase Marso to forego eligibility, attend Harvard
'08, Sr. Sarah Elizabeth McMahon, Benedictine Sisters, Norfolk, NE
"My name is Sr. Sa
rah Elizabeth McMahon. Through the support of the Davenport Evans scholarship I was able to complete a B.S. degree in Electrical Engineering and Engineering Physics at South Dakota State University (SDSU). During my time at SDSU I grew in my faith through involvement in the Newman Center and FOCUS Bible studies. By my last year of college, I had the sense that God was calling me to something more than the typical career in the engineering field. After a nun run (visiting 5 different religious communities) that spring break, I felt God was calling me to religious life. I was not sure where He wanted me at first, so I did work with Interstates as an Electrical Engineer for a year as I continued to visit various communities to keep discerning God's will for my life.
In 2014, I found the Missionary Benedictine Sisters in Norfolk, NE and since then have started formation to become a sister in this particular community. This venture has been very fulfilling so far and I look forward to seeing how God will use the skills I obtained in college to benefit my community and the world around me through the missionary ministries with which I become involved. I am currently at Immaculata Monastery in Norfolk, NE preparing for my final profession of vows." Sr. Sarah Elizabeth made her profession of her vows on September 3, 2022.
'05, Whitney Stockwell, US Peace Corps HQ, Washington DC
"This was an important scholarship that facilitated my undergraduate degree. I hope that opportunities like this continue to be made available to deserving students – even if they don't go to the "big" Sioux Falls schools. Thank you for investing in me and other South Dakota youth!"
'11, Austin VanderWal, Test Engineer, AGCO, Jackson, MN
"I did undergraduate research at SDSU with a company headquartered in Indiana. I chose to continue some of that work, which meant moving down there. Both my wife and I are from the Brookings area, so the 12+ hours away was tough. We chose to move back much closer to southern Minnesota. Unfortunately, there are not a ton of engineering jobs in South Dakota, but they are growing and we do hope to return some day. Thank you again for your wonderful scholarship program. It was truly a blessing for my life and collegiate career!"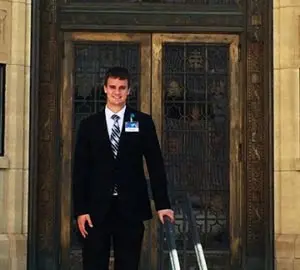 '12, Nate Vinzant, Graduate, Mayo Clinic Medical School, Rochester, MN
 "I am currently finishing my second year of medical school at Mayo Clinic School of Medicine. Thank you to DEHS for the financial support through my undergrad years at USD, which provided me a quality education, and acceptance at several medical schools! Thanks again for DEHS support of the youth of South Dakota!"
'02, Kristina Wattier, MD, Psychiatry, Ascension Healthcare, Stevens Point, WI
"I did my undergrad at Dakota Wesleyan in 2006, finished Medical School at USD in 2012, and just finished my residency at USD School of Medicine last summer, July 2016. I took a job in Wisconsin as an attending physician and am enjoying it. I am glad to finally be done with school. Thanks for the help!"
Share Your Scholar Story!
Please check back for more stories, and if you know a scholar that would like to share an update, ask them to email Kristen Townsend at [email protected]. Davenport Evans lawyers are proud to support the future of South Dakota through the Davenport, Evans, Hurwitz & Smith, LLP scholarship.