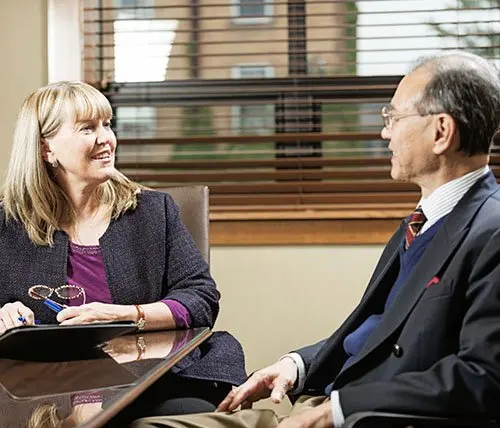 The attorneys of Davenport Evans are committed to client success. One of South Dakota's oldest, largest, and most highly respected law firms, Davenport Evans offers its clients a wealth of experience across a wide range of practice areas. Our attorneys are recognized by Martindale-Hubbell, Super Lawyers, U.S. News – Best Lawyers®, Chambers and Partners, and Benchmark Litigation.
Davenport Evans, in Sioux Falls, South Dakota, routinely represents national clients on major transactions and in complex litigation matters.
Our lawyers provide exceptional legal representation to local, national, and international clients, with a thriving business practice and a well-earned reputation in litigation. Davenport Evans estate planning, probate and trust administration attorneys are considered among the most prestigious and trusted teams in the region. With our attorneys' many areas of specialization, you can trust Davenport Evans to help Protect What You've Built.
Davenport Evans Culture & History
Founders
Davenport Evans was established in 1939 by attorneys Holton Davenport and Ellsworth Evans. A Boston attorney, Davenport moved to Sioux Falls to be near family. At Davenport's request, Evans, a former South Dakota State's Attorney and Assistant Attorney General, joined the practice, which later welcomed attorneys Louis Hurwitz and Deming Smith. The firm grew to become a leader in both litigation and commercial law.  The founders' vision of a firm based on integrity, expertise, and a tireless commitment to client success lives on today.
Today, Davenport Evans is home to 32 attorneys, several of whom worked alongside founding partners. Our founders are remembered often in meetings with recollections of their approach to a challenge, a favorite joke, or memories of long hours spent reviewing a case. The firm's dedication to excellence, strong work ethic and providing value to its clients has not changed.
Our Building
Davenport Evans offices are located at the corner of 14th Street and Main Avenue in Sioux Falls, SD, in the former Moe Hospital.  Built in 1917 by Dr. Anton J. Moe and his wife Frances Favor Moe, the hospital included two operating rooms, an obstetrical room, a laboratory and a dietary kitchen, as well as a Nurses' Home, laundry, engineer's residence and garage.  The 5-floor hospital building was described as "a modern, all-fireproof structure of handsome architecture of cream colored brick" with "a beautifully designed and finished interior of Italian and Tennessee marble."
The Moe Hospital building went through several incarnations before being purchased by Davenport Evans in 1982. The law firm has added to and remodeled the former hospital over the years and has now completed renovations.  The Davenport Evans building serves as a proud reminder of the firm's long history and tradition of excellence. More on the history of Moe Hospital from the book "Forgotten Sioux Falls" by Eric Renshaw, and ArgusLeader.com.
Argus Leader: Law Firm's Home Was Early Sioux Falls Hospital
Community Involvement
Dedicated to community, members of the firm serve on the boards of numerous non-profit organizations. The firm's charitable giving supports services for at-risk youth, food and housing for those in need, the Arts, and more. The firm's unwavering advocacy and commitment to excellence demonstrates a devotion to giving clients and community its very best. Visit our News page for the latest updates, and our Careers page for more on joining our team as a Davenport Evans lawyer or staff member.